My random nattering about all things geek, including family, friends and what I find to be fantastic and fun!

This is the busiest time of year for farmers. They start harvesting in earnest and it goes for the next month or so. Apple orchards are the same. The fruit is ripe and ready for picking.
No different for apple trees anywhere. We have a dwarf McIntosh apple tree and our apples were ready for picking this week. Tiny tree, full-size apples. We let our girls pick their own trees for our property and Miranda choose the apple tree. So it's her tree, and they are her apples. That means she gets to decide what to do with them.
Also means she gets to do the heavy work - like climbing the tree to collect as many apples as possible.
We ended up with 2 baskets full.

It also means that mom and dad always end up helping because, well, it's a lot of apples, and a lot of work!
Miranda and I spent a lot of time just peeling and cutting the apples for cooking.
We filled that giant pot in the photo to overflowing.
Then she and her dad got down to the business of cooking them. This year Miranda, aka Gastro Teen, decided to make apple butter.  Our two chefs also decided to experiment and try two different methods.
Stove vs. Oven
Results were really interesting. Both methods started with exactly the same ingredients and amounts.
But the flavours were different, and as you can see, so were the resulting colours.
Guess which came out of the oven?
I'm looking forward to seeing what she decides to do with her apples next year. Whatever it is, I know it will be delicious.
All the best, your GG

Author Bruce Brown has done something terrifying... and wonderful. He has taken pieces of young H.P. Lovecraft's real life, and the dark stories and creatures from older Lovecraft's imagination, and has written a set of three adventures for kids published by Arcana Studios. The three together make up Howard Lovecraft and The Three Kingdoms.
Here's a description from their website of how it all begins...
"Hidden away from the world is a dangerous book filled with forbidden knowledge. For ages, the mere possession of the book has driven men to madness. On Christmas Eve the unthinkable happens; the book is placed in the hands of a child. Unaware of its danger, Howard Lovecraft opens the books and speaks aloud its forbidden knowledge. Join Howard Lovecraft and his elder god companion Spot as they enter three kingdoms of terrifying creatures and monstrous villains all seeking to gain possession of Howard's book."
The three stories are all separate, but continue a larger story chronologically as well. In the first book - Howard Lovecraft and The Frozen Kingdom - little Howard gets a mysterious gift at Christmas and his grasp on reality is changed forever. In the second book - Howard Lovecraft and The Undersea Kingdom - Howard and his new friend/pet, Spot are in a race against time to stop his family from being turned into fish people! The last book in the series - Howard Lovecraft and The Kingdom of Madness - Howard, Spot and new friends investigate a mystery involving his father and an ancient evil laboratory.
They are fantastic new stories that any fan of Lovecraft will want. They are also a great introduction to the works of Lovecraft for school aged children aged 10+
And NOW is the best time to get them because Arcana and the author have a brand new Kickstarter campaign and you can get so much more than just the set of 3 stories like... how about your own plushie Spot.

Yes please!

I'm very pleased that one of my favourite horror mythos is being introduced to the next generation of geeks in such a spectacular manner.
All the best , your GG
Let me give you a little background into this whole ALS Ice Bucket Challenge that is sweeping the internet. It began as a simple way to donate to your favourite charity. People had 24 hours to complete the challenge. Anyone who failed would donate to their favourite charity.
When Chris Kennedy, a pro golfter in Florida, was challenged he chose ALS because his wife's cousin's husband has the disease. He did the challenge and was the first person to record himself doing it.
Chris Kennedy

Afterward he donated $100 to help fight this disease that has no cure. Kennedy also challenged three people, including his wife's cousin Jeanette Senerchia.
Jeanette posted her video on Facebook and made sure to mention that it was to help families living with ALS. Her community rallied around the family and they were overwhelmed with the number of people doing the challenge and donating. And then it took off! You can read the whole story at Time Magazine online.
Since then, all anyone has heard about are the stories and videos of celebrities doing it. Somewhere along the line the origins and meaning of the Ice Bucket Challenge got lost. Now there are many asking people to stop. Don't Stop! Whether you do the challenge for ALS or any other charity, it's a great way to raise money and awareness. Just don't lose sight of the end goal and remember that it's not just to be on Youtube having freezing cold water poured on your head. 
When my niece Michelle did it and then challenged me, I decided it had to be done right. I still had 24 hours to do it, but I wasn't going to take the challenge unless people donated first to ALS Canada. The US has had a lot attention, but not here. Luckily, my friends and family love to see me do silly things, so within 2 hours they had donated over $100 to see it happen.
It happened.
My goal has been reached, but you can still make a donation.

Keep it going, but make it count!
All the best, your GG
I have watched practically everything Joss Whedon has ever made. I love his wit and his style. But I didn't really the know the man at all. I didn't even realize he was married. For shame.
But I was given the opportunity to learn about his life, his family, and lots more when I was asked to review Joss Whedon, The Biography by Amy Pascale.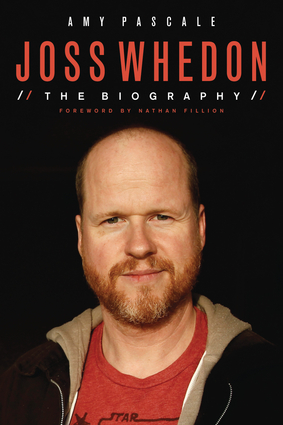 Ms. Pascale has done an incredible job. This book is overflowing with Joss Whedon trivia. Before I even begin to get into details, let me illustrate what I mean by overflowing. There are 24 pages of Notes, a 13 page Bibliography and a 10 page index. Just let that sink in...
But wait, there's more...
Pre-Joss - his ancestors, his parents. How they both influenced his creations. His mother Lee in particular. She was an incredibly strong and creative woman. Other strong female influences in his life are his mentor, Jeanine Basinger and his sweet, smart and self-confident wife, Kai.

Personal Joss - his family, and his extended family of friends who come from a wide background of actors, writers and lovers of Shakespeare.
Work Joss - How he got started. All the shows he has worked on. All the Disney work he has done - and I'm not talking about Marvel and The Avengers! All the ups, downs, heartbreaks and successes.

Here are some things I didn't know before reading the book - Everyone has seen the Mutant Enemy production slate at the end of his television episodes. But did you realize Joss himself drew the monster that goes across the screen, and voices it too saying "Grrr,Argh". Here's a choice piece of information for Firefly fans. When Joss was developing Firefly, Fox said that they didn't want Wash and Zoe to be a married couple. "The last thing that Fox said was, 'We will pick up the show, but they can't be married.' And I said, 'Then don't pick up the show, because in my show, these people are married. And it's important to the show'."(from Chapter 17 of the Biography) Something more personal - His wife Kai had an outdoor amphitheatre built in their garden to accommodate one of Joss' favourite activities - readings of Shakespeare - Awwww. Lastly, here's a big one - Joss dropped out of talks to direct Iron Man to concentrate on getting Firefly off the ground and work on his other Mutant Enemy commitments!  I'll stop here or this post will end up as long as the book... ok, maybe not quite so long.
Something else I really like about this book is that it's not just about Joss Whedon. It gives you a full picture of life around him as well. There are many stories about those he grew up and worked with including friends, family, writers, producers and actors like Nathan Fillion, Anthony Stewart Head and Jeremy Renner.

AND there are photos - lots. Who doesn't love photos.

This book is the ultimate package of Joss Whedon history, recollections, anecdotes and lessons learned from the Geek King himself and many, many others that orbit his blazing glory (too much?.. Whatever, I love this creative genius). It's a wonderful complete piece of work. Amy Pascale has a wonderful talent for keeping it personal and real, going into great depth about a person's entire existence, and especially collecting what fans want to learn about. I believe the author could make a fine living just writing biographies.
Whether you're a huge fan, or simply enjoy one of his creations, whether television, movies, comic books or music, I highly recommend this book. You can get your own copy at amazon.ca
All the best, your GG

On the day of his death I was asked to write how I felt. At that very moment I was crying for his loss. I was crying because it affects me quite deeply.
I wrote how I felt right then while I was crying. It's very raw, but I had to share. You can read it at  Capital Geek Girls: Remembering Robin Williams.
Needless to say, he will always be Mork to me.
Farewell
All the best, your GG

It's that time again. This year Miranda (Gastro Teen) and I have been working on the garden together. It has been doing quite well. In July I wrote about our mid-summer harvest. It was a delicious harvest to be sure.
Now our elbow grease... and some luck... has produced our first vegetables. Here's what we've got so far...
After finding two much smaller, Miranda found one full size Lebanese Cucumber.
Love the mottled skin!
She also found two watermelons well on their way to full grown juicy, deliciousness
Sadly, we've only gotten one red pepper so far.
Evil squirrels...
Our tomatoes are going nuts, and our tiny hot peppers are doing well too.
The purple is the not-so-hot stage and the red is the very-hot-stage.
Gastro Teen took the tomatoes, both peppers (and a few more),
Cilantro, that is now happily reseeding itself in our garden, an onion and spices
and made us a giant jar of salsa - Mmmmm

The apples, grapes and eggplant are almost ready. But that's a post for another time.
All the best, your GG

Every so often the Comic Book Shoppe on Bank Street holds a Ladies' Night for all the fabulous geek women in Ottawa. Last night's event was held in partnership with Capital Geek Girls, so I made an extra effort to attend.
The first thing I did before the huge line outside started moving in was go visit Emily Griggs of Sweetingenuity  who was there to turn the ladies into cartoons.
Look at me! So cute... and young.
She's awesome!
Then the crowd came in...
They just kept coming. They filled the store!
Of course, it helped that the first 50 ladies to make a purchase got an incredible loot bag.

The rest of my night was spent chatting up people about CGG, and checking out all the other great things going on.
You could get your geeky nails done.
You could chat with the fine ladies at Hollaback.
You could get incredibly tasty donuts from Cici & co.
They were seriously magical. One minute on my napkin, then POOF... gone!
And of course, you could simply shop. The store had huge discounts for the ladies.

My daughter Miranda was excited about the shopping.
She got super excited when she found her cousin's book Boogerball.
As for me, I had great fun with all the ladies there, and I did find one tiny thing I just had to get...
Yes - that's a Cthulhu car air freshener.
Now our car smells of madness... mmmmwwahahaha...  Who needs a lift?

Ahem... It was a fabulous evening. I asked a number of the ladies about their experience and every one of them said it was well worth the wait in line!
All the best, your GG